Unrestrained Praise
 Last year during the fall Windy Gap retreat, worship was revived at CCS with students hungry to enter the house of praise. The following months were characterized by unrestrained worship at the foot of the stage and hearts open to the Lord. However, this year, COVID-19's strict restrictions are confining everyone in isolation to their individual seats. "Last year's circumstances were a lot easier [without coronavirus]," said sophomore Ignite leader Molly Dorminy.
Another unforeseen obstacle when engaging in worship is the mandated mask requirement. Members of the Ignite team have shared frustration as they are unable to measure their suffocating audience's participation. They spend their entire week preparing to lead the student body and are discouraged by the somber faces presenting a permanently blank expression.
"You can't see if people are physically engaged because of the masks," said senior Ignite leader Caitlin O'Hagan, "You can't see if people are singing and when they sing it is very encouraging to the Ignite Band."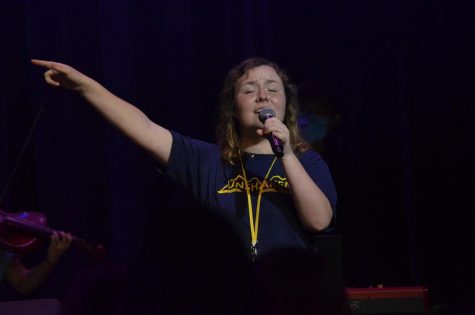 Another disconcerting dividing factor within chapel services is the separation of grades compared to the past unity of everyone in one venue. The room echoes against the empty seats with seniors and juniors rotating with sophomores and freshmen for a biweekly spot in the Student Auditorium. 
"A screen is not fun, it is just not the same and you can't feel the rhythm," said sophomore Ignite leader Molly Dorminy.
In spite of the Ignite Band's shared frustration, the team has continued to worship freely regardless of the rigid regulations. Molly Dorminy closely demonstrates this ability to turn negative circumstances and bring about God's ultimate glory. Recently, Molly told part of her story in chapel and performed a song she wrote as encouragement to those without hope. (If you want to hear more from Molly click the links down below)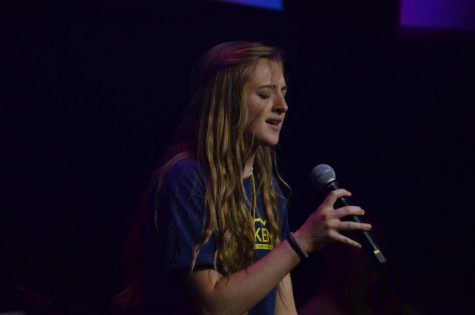 Even amid the ever present struggle of COVID-19 restrictions and this stressful season of life, God has continued to bless the Ignite Band's efforts. Student response in worship has increased since the start of the year as the Lord moves in the heart of the student body. 
The Ignite Band members hope that this praise is seen as worship and not a performance. Senior Andrew Riebe said, "There are always mixed reactions in chapels. Ultimately, our work is for the complete glory of the Lord. Our prayer is that we do our best to lift God up and let the Holy Spirit take it from there." Regardless of this year's setbacks, Molly and the team continue to worship the Lord with unrestricted praise. 
Learn more about Molly through this feature by Maddi Hanks.
Enjoy this recording of There's Hope by Molly Dorminy.