How to save a life
Modern slavery.  A hidden crime with over 40 million people globally enslaved by force, fraud, or coercion to obtain some type of labor or commercial sex act. In 2020, human trafficking has increased by 40% in the United States likely due to the current coronavirus pandemic as more individuals seek solace online and fall prey to predators. 
North Carolina is responsible for over 260 cases annually ranking at number six in the United States for most reported human trafficking cases. According to the National Human Trafficking Resource Center, within North Carolina, Charlotte is number one for human trafficking with nearly 80 cases per year. 
A common misconception is that traffickers only prey on individuals late at night in a bad part of town; however, it doesn't doesn't matter the time of day nor the location for kidnappers to claim their victims.
"One thing I wish teenagers understood about human trafficking is that human trafficking happens everywhere," said Casey Thompson, an employee of Wells Fargo.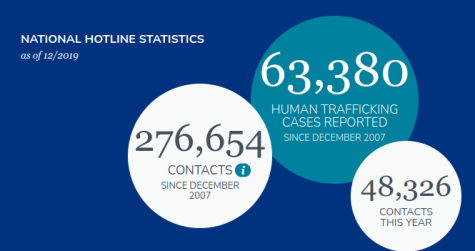 Thompson, works in the Anti-Money Laundering (AML) department,  following the flow of money to detect human trafficking, drug trafficking, and money laundering. Because of this, Thompson works closely with victims and is passionate about human trafficking preventatives.
"Teens need to be aware of their surroundings at all times, to keep an eye on all of their social interaction, including their online activity. This includes [keeping confidential] the name of their school and home address, but it might also include less obvious material such as tweets or posts about negative emotions, as traffickers often assume that a child who frequently vents online is an easy target," said Thompson. 
Even Thompson's daughter, Alayna, a junior at CCS, has been a victim of grooming in the aisle of a local store. "The whole situation opened my eyes about the world we live in…and be aware of your surroundings," said Alayna. However, because Alayna is aware of her surroundings and is educated in what to look for, she was not a victim to modern slavery.  
"My advice on staying safe and precautions is not to meet people alone, especially anyone that you meet over the internet. Today, a trafficker can strike up what seems like a harmless conversation online, but over weeks of careful grooming, they are able to manipulate you into exchanging personal information or even meeting up in person," said Thompson. 
The National Human Trafficking Hotline is a resource used by service providers and law enforcement to receive tips about human trafficking in our country. Anyone can call the NHTH to report a tip or request services at 1-888-373-7888. Calls are 24/7 and always confidential.