Blue & Gold response to storming the Capitol
Editorial
To the Carmel Christian student body,
I humbly pray that these words find you well, but I pray that they are first edifying to the Lord.
It is with a grave heart that the Blue & Gold editorial staff recognizes and condemns the attack on the United States Capitol building. January 6th marks a tragic day in U.S. history as anarchists broke constitutional law. Not only were perpetrators unlawfully breaking and entering federal property, individuals were also in violation of The Patriot Act. In accordance with this act, domestic terrorism is defined as "(i) intimidate or coerce a civilian population; (ii) influence the policy of a government by intimidation or coercion; or (iii) to affect the conduct of a government by mass destruction, assassination or kidnapping." The utter disrespect to a national building, elected legislative officials and to President-elect Joe Biden is unacceptable. The government is elected by the people and for the people; therefore, perpetrators who broke the law and should be tried accordingly to the fullest extent. This is no longer a matter of partisan politics. This was a direct attack on our civil liberties, freedom, and democracy as we know it. We do not and will not accept this unwarranted contempt to our political system that our founding fathers fought so hard to establish.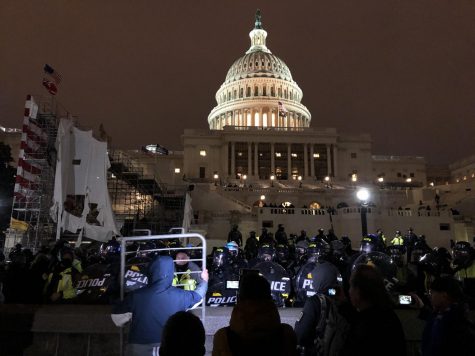 This attack weakened our resolve as a united entity and was incongruent with God's will to respect authority. Romans 13:1 is clear about respecting our leaders that God has put in place. "Let everyone be subject to the governing authorities, for there is no authority except that which God has established. The authorities that exist have been established by God." Unfortunately, Wednesday did not reflect any biblical principles that were claimed during the riot. 
Along with many Americans, we grieve the current state of our nation. In a time absent of hope, we must rely on the God who ordains our steps. And as daunting as it may be, we are the next generation. We must educate ourselves and preserve this system of government with all the freedom it allows. To safeguard against a numb attitude towards current events because soon our peers will be leading the country. We are on the cusp of adulthood and it is no longer ours to watch passively. For seniors, that one day is fast approaching. It is our job to fix the mistakes of those before us, to be brave and do what is right in the eyes of the Lord. 
May God bless you, 
Elizabeth Poarch
Blue & Gold Editor-in-Chief