Prom is back with 'A Night in Paris'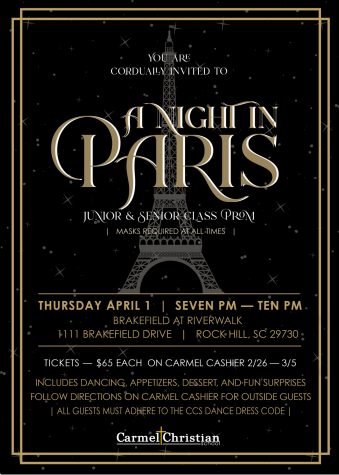 As emails were opened, excitement erupted on the first floor of the high school where most of the upperclassmen were ending their school week. With smiles hidden behind masks, students exchanged enthusiastic glances. Apprehension regarding the senior spring season was put to rest with the announcement of Prom 2021, A Night in Paris.
With Prom 2020 being canceled due to Covid-19, Prom 2021 is a welcomed return to some normalcy. 
"Check your email! Check your email!" seniors Ansley Pounds and Maddi Hanks said to seniors Elizabeth Poarch and Hailey Sims. "We are thrilled to have a second chance at our first prom," said senior Elizabeth Poarch.
Prom will be held April 1st at Brakefield at Riverwalk from 7:00-10:00 pm. The night will include dancing, desserts, and appetizers.  
High School Assistant Principal, Dan Siftar, said, "The night will be full of fun and an awesome time." Spots are limited with seniors receiving priority in purchasing tickets. This will be a special occasion you don't want to miss.