Oh, the places you'll go!
Many people dream about traveling the world especially with the constrictions we have nowadays. This dream has been a reality for sophomore Riley Buelow.
Riley is a new student at Carmel Christian School who transferred from Providence High School. She has always had an infatuation with traveling and has been able to take advantage of her summers and spring breaks to pursue this passion of hers.
From walking the streets of Paris, to the outskirts of Rwanda to help blind, Riley has been to places that many can only imagine. Her family has been able to experience different places for vacation and service.
"Traveling to foreign places, such as my trip to Africa, has really made me appreciate  what God has provided and given to me," said Riley.
During the summer of 2019, Riley and her family partnered with Fashion and Compassion, which is an organization that aids women in Africa who have experienced trauma in their lives. She was also given the opportunity to aid blind, albino children on this trip. They provided these children with a safe place to stay and braille typewriters so they would be able to learn how to read and write.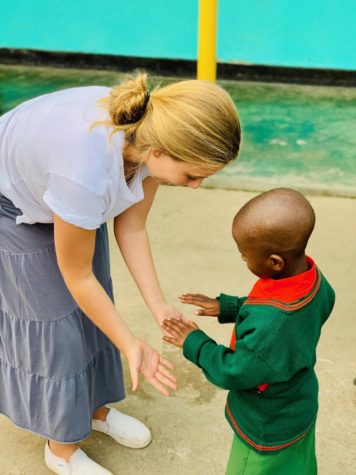 This mission trip opened her eyes to see there are many children in need of things that we wouldn't even consider on a daily basis.
Although she has been given the opportunity to serve others on some trips she has also traveled for her own enjoyment and vacation. Riley has been to three continents in her travels and plans to go to another in the spring.
"Travel not only allows you to appreciate the beautiful scenery of our world, but to experience many different cultures and delicious food," said Riley.
Riley plans to travel to Costa Rica this year with her family for spring break. She wants to continue to travel throughout her life because of the opportunity she gains to relieve stress and learn more about the specific cultures of the world.
Riley is a normal high school student, but she has been able to enrich her life through her travels and better her understanding of the blessings in her own life. This is an  important lesson for not only Riley but also people in general as recognizing blessings and being thankful is a vital skill.