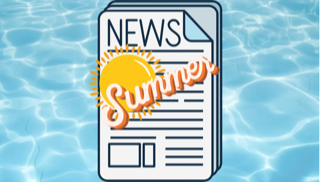 Over summer break, you may have missed a few things happening worldwide. The Blue and Gold is here to catch you up!
Conflicts: who, what, why? 🚨
Why it matters: The conflicts going on around us are important to be aware of. Whether it is happening next door, in the next state or even in a whole other region of the world, it is important to be informed, aware and mindful.  
Ukraine
Ukraine

still resists Russian assault with aid from the West since Russia's original invasion in 2022. Russia is not backing down and there seems to be no end in sight. This conflict has continued to affect the rest of the world as former Russian President Dmitry Medvedev speaks on the fact that if Ukraine joins NATO there would be no choice but to start a nuclear war.
The Sahel
The Sahel

, a central region in Africa used as a transition between the Sahara desert and many countries,  has been experiencing severe forced displacement, reaching its all-time high in 2022. This is causing people to currently seek refuge in many places, majorly in the south and north, including in North Africa and Europe, while also causing issues of armed conflict.
Haiti 
Since the murder of Haiti's president, Jovenel Moïse, in July 2021,

Haiti

has been in a political gridlock that has caused rising tensions and gang violence. 
June overview ⛅️
Why it matters:
June was filled with rare occurrences and tragedies. These events fostered worldwide attention leading to many social and political conversations.
July Overview🍦
Why it matters:
July brought up some problems that the world is struggling with. To be able to fix the problems you need to see what they are and how they progress. People need to know that movements are being made against their rights or that there are laws that could help provide assistance for all sorts of natural disasters. 
August Overview 📚
Why it matters:
August reminded America of its upcoming election that is looming in 2024. The tensions rise as political parties present their candidates and polling numbers change daily as the world is faced with the tragedy of fire.